What do Laborers Do?

The Chicago Laborers' District Council and our 15 affiliated locals represent workers from a wide variety of industries, performing work in both the private and public sectors, including but not limited to construction and demolition, environmental remediation, security, waste management and sanitation, quarries, precast plants, industrial, and municipal work. The following is a representation of some of the Laborers' scope of work; it is not meant to be a comprehensive outline of our jurisdiction.
Scaffolding Erection Laborers are trained to routinely complete the safe and efficient erection and take down of scaffolding. Safety is key when working on scaffolding projects, as it is often done at extreme heights.
Sewer Construction & Rehab Laborers safely build and rehab the complex system of underground sewers.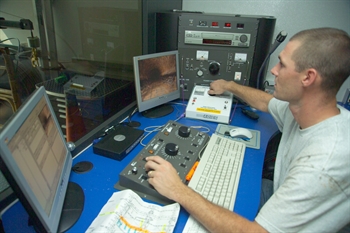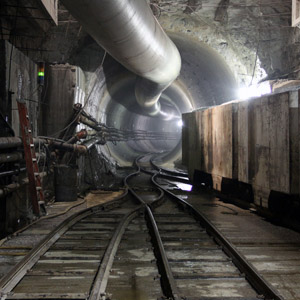 Deep Tunnel Laborers perform a wide variety of activities involved in building and maintaining one of the largest engineering projects ever undertaken - the labyrinth of deep tunnels underneath the City of Chicago designed to alleviate flooding and reduce the harmful effects of flushing raw sewage into Lake Michigan.
Brick Paving can last a lifetime and be as durable as nearly any other type of paving. Laborers execute the projects with expert precision, from excavation, grading, base layering, and finally setting the stones.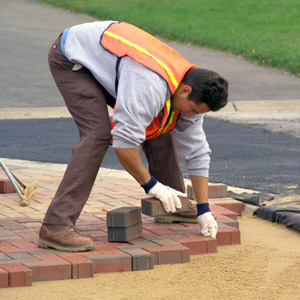 Concrete Curb & Gutter requires a high skill level to properly pour, place and form concrete. Laborers acquire this knowledge through training and hands-on experience.
Asphalt Paving paving crew consists of several different trades working side by side in some of the worst heat - with Laborers being prominently represented.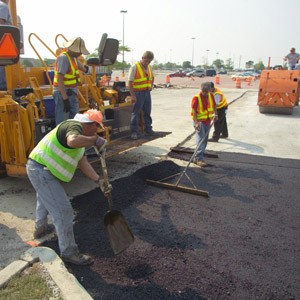 Concrete Road Paving that is done properly by skilled Laborers who construct durable roads is extremely important for our infrastructure and motorists' safety and Laborers perform this work proudly.
Mason Tending involves mixing the mortar, supplying the mortar and bricks and other materials to the Masons who set the bricks. Laborers who perform mason tending keep the job site flowing efficiently.
Small Equipment Operation Laborers are right at home on a variety of small power machinery found on job sites, including skid steers, lulls, and forklifts. Of course the large stuff is the home of our brothers and sisters in the Operating Engineers Union, but Laborers traditionally handle some of these smaller pieces of equipment.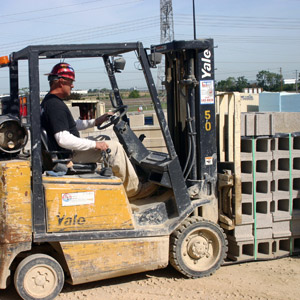 Environmental Remediation includes the abatement of asbestos, lead, and other hazardous materials. Special safety regulations regarding such materials require specialized training, education, and equipment for the Laborers.
Demolition requires highly trained Laborers to safely and efficiently take down a structure.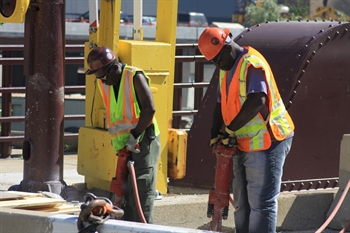 Bridges construction takes the cooperation of many trades. Laborers perform a variety of roles on a bridge job, including placing the concrete, assisting other trades, rigging, and site safety management.
Saw Cutting is performed by trained and experienced Laborers who operate enormous, powerful saws to cut concrete and other paving surfaces.
Concrete Forming is the building of structure that holds the concrete in place once it is poured. This requires precise building skills using a variety of materials and tools.
Utility & Sewer Lines run under the surface of the earth carrying water, electricity and sewerage. Laborers work on all of these systems on commercial and residential projects including sewer lining.
Site Cleaning is required to keep work sites safe and efficient. Laborers clean up construction debris and make sure that it is properly managed.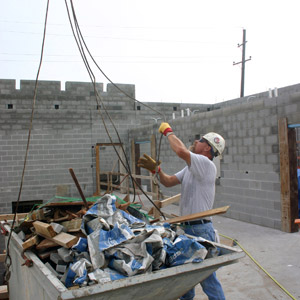 Concrete Pumps are one widely used and powerfully efficient method of pouring concrete. The quick, powerful manner in which concrete pumps can distribute concrete makes them super effective, but also quite dangerous. The well-trained hands of Laborers are called upon to corral the power of these pumps and operate them as safely as possible.
Site Safety Many construction sites, especially larger ones, have one worker whose job it is to make sure safety regulations are being followed throughout the site. They make sure workers and the conditions of the site itself adhere to safety regulations. This work requires a large knowledge base of all safety rules and regulations, and the fortitude to enforce them amongst co-workers. In the end, site safety personnel are protecting people from injuries and improving the overall quality of working conditions on the site.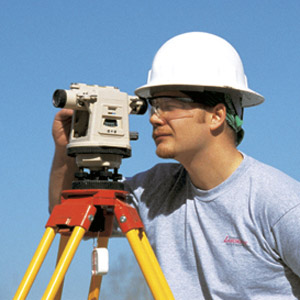 Pipelines carry a wide variety of gasses and liquids throughout the country and are a integral part of our country's infrastructure. A variety of jobs in their construction fall to the hands of skilled Laborers.
Flagging is the most important construction job. It is a dangerous and stressful job. Road crews work mere feet from moving traffic and it is the responsibility of the flaggers to decrease those inherent risks to the entire construction crew and the traveling public as much as possible. Flaggers are trained in safety and emergency procedures should an accident happen.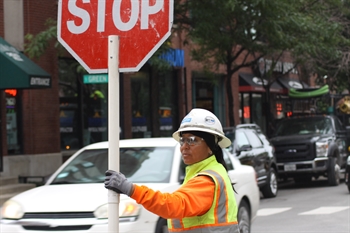 Rigging involves hooking or tying materials and equipment to chains, ropes, and cables so that it can be transported in the air by cranes, backhoes and other equipment. Safety is the number one concern when rigging, as this material needs to be as secure as possible in order to ensure it does not fall and cause damage to people or property.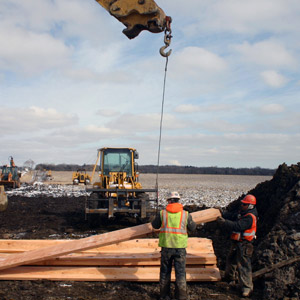 Site Work involves many different skills and specialties, including the operation of scoping, positioning, and grading equipment long before any construction contract can begin.
Additional Public Sector Work includes but is not limited to sanitation, graffiti removal, rodent control, forestry, snow removal, airport maintenance and security, as well as clerks, dispatchers, administrators, and engineers at municipal offices.