Elections
Upcoming Election: Presidential Election November 3, 2020
2020 General Election Endorsements
(download pdf)
For more information check out LIUNAVotes2020.org
Ways to Vote
Early Voting
Beginning September 24, any registered voter may vote early in-person at any of the early voting locations designated by the election authority.

Vote by Mail
Beginning June 16, any registered voter with a driver's license, state ID or social security number on file may request a mail ballot using an online or paper application. Ballots must be postmarked by Election Day (November 3) in order to be counted.

Voting on Election Day
Registered voters can only vote in their home precinct on Election Day. Residents who are not registered to vote may register and cast a ballot on Election Day thanks to same-day registration and voting. Those who wish to register on Election Day must present two qualifying forms of ID.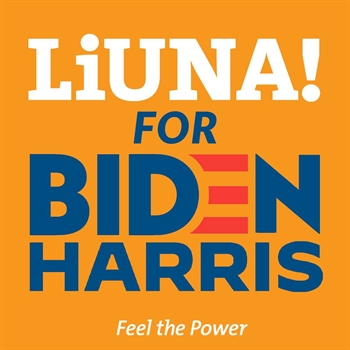 Important Dates
Tues. 6.16.20
Voters may begin requesting Vote By Mail/Absentee Ballots.
Thurs. 9.24.20
First day for early voting at the office of the election authority and temporary locations designated by the election authority for the General Election.
Tues. 10.6.20
This is the last day of on paper voter registration and in the office of the election authority.
Weds. 10.7.20
Grace Period Registration & Voting starts for those who missed the other voter registration deadlines but still want to vote in the November Election.
Sun. 10.18.20
Deadline for online voter registration.

Thurs. 10.29.20
Vote by Mail/Absentee ballot requests must be received by the election authority by this date.
Mon. 11.2.20
Last day of Grace Period registration and voting.
Tues. 11.3.20
ELECTION DAY!
Last day mail ballots can be postmarked.