Right-to-Work (For Less) Ordinances Banned in Illinois
April 12, 2019 - CLDC LMCC LECET
In a victory for Illinois unions and workers, today, Governor JB Pritzker signed into law the Collective Bargaining Freedom Act. This measure bans all units of local government from passing so-called, right-to-work ordinances. "Right-to-work" is a slick name for a bad policy designed to take away rights from working people. Supporters of right-to-work laws argue workers need protection against being forced to join a union. Nothing could be further from the truth. Federal law already makes it illegal to force someone to join a union. But by forcing unions to represent free-riders who want the benefits of union membership but don't want to pay for it, these policies weaken unions and make it harder for working people to collectively bargain for better wages, benefits, and working conditions.
The Collective Bargaining Freedom Act crystalizes that in Illinois the National Labor Relations Act prevails, that only the general assembly and governor have the power to regulate collective bargaining. This means that local bodies and political subdivisions absolutely cannot enact right-to-work or other ordinances restricting collective bargaining.
The bill's chief sponsors who were elected to the legislature in 2018 both have union roots. State Representative Lance Yednock is a member of IUOE Local 150 and Senator Ram Villivalam is formerly a staffer for SEIU. The legislation enjoyed overwhelming support from lawmakers on both sides of the aisle, a remarkable shift in dynamics since Bruce Rauner was booted out of the Governor's mansion by voters after waging an ill-advised war against workers.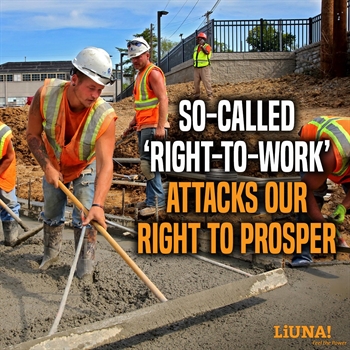 "This is what we can accomplish when workers and their unions band together to elect politicians who share our values. There's no more obvious contrast between the ousted Bruce Rauner and our Governor JB Pritzker when it comes to governing for the benefit of Illinois workers. On behalf of our 15 affiliated Local Unions and more than 20,000 members, the Chicago Laborers' District Council expresses our gratitude to the Illinois General Assembly and the Governor for passing this important law," said James Connolly, Business Manager.
Coverage of Governor Pritzker's bill signing ceremony: https://www.sj-r.com/news/20190412/pritzker-signs-law-barring-local-right-to-work-zones



Categories