Member Benefits
From pay, to training, to retirement, LIUNA members live better. Union Laborers are part of an organization whose goal is to provide good wages, benefits, and safe working conditions for all its members. Members have access to free state of the art training, have a strong collective voice on the job, excellent health care coverage, and can retire with dignity with a defined benefit pension – all negotiated through our collective bargaining agreements. Read more about your health, welfare & pension benefits by visiting your funds office page here: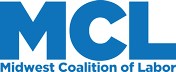 Exclusive Member Benefits
Midwest Coalition of Labor
Our dues-paying members also have exclusive benefits in addition to those contained in the collective bargaining agreements. Through our partnership with the Midwest Coalition of Labor our members are also provided at no cost a life insurance and accidental death & dismemberment policy, access to free and discounted legal services, identity theft recovery services and compensation, free roadside assistance services, membership in the Midwest Coalition of Labor Credit Union and discounts on Chicago Sun-times subscriptions. Read more about your exclusive members-only benefits at the Midwest Coalition of Labor.
Please, contact your Local Union Business Manager or the Midwest Coalition of Labor at 1-800-433-2099 with questions regarding eligibility or accessing these benefits.
Benefit News