Bipartisan Infrastructure Framework
FINALLY, we have an Infrastructure Framework worked out between the White House and a bipartisan group of lawmakers for $1.2 trillion in investment. This is an historic deal, one that we've pushed for decades, that will first and foremost put Laborers to work, create a generation of good-paying union jobs, and boost economic growth.
What's in it for Illinois?
The need for action in Illinois is clear and recently released state-level data demonstrates that the Infrastructure Investment and Jobs Act will deliver for our state. Here is what is in the version that passed the Senate. Infrastructure Investment and Jobs Act Detailed Fact Sheet

$9.8 billion for federal-aid highway apportioned programs and $1.4 billion for bridge replacement and repairs
$4 billion for public transportation
$1.7 billion for clean drinking water and water infrastructure
$149 million to expand the network of electric vehicle charging stations
$100 million to expand broadband internet coverage
$616 million for airport infrastructure
$27 million to protect against wildfires
$22 million to protect against cyber attacks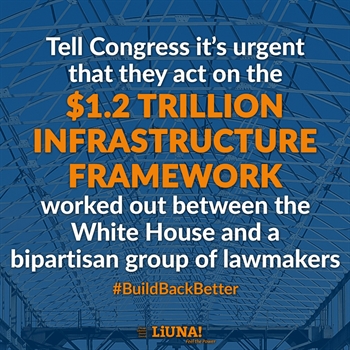 We need Congress to pass the Bipartisan Infrastructure Framework. ACT NOW and tell your congressperson how important this historic legislation is to you.